"With all my favorite colors, yes, sir

All my favorite colors, right on

My sisters and my brothers

See 'em like no others

All my favorite colors"

                Black Pumas – Colors (Black Pumas, 2019)
What I sometimes wonder is; what would the world look like if everyone wore colourful clothes? When I walk through the city on a cloudy day, or when I wait on the bus with many people, I sometimes imagine what it would look like if everyone wore bright colours. Dark colours can be beautiful, but if everyone wears it, isn't that a bit too much? Doesn't the world look much more beautiful on cloudy days if people expressed themselves in a colourful way?
As a child I wasn't a big fan of dark colours. I found them boring and similar to each other. When I was too young and too small to buy clothes myself, my mom said when she would get something for me again. I always said that I wanted clothes with colours. I thought that it's much prettier. Last year I rediscovered my love for bright colours. Not necessarily light colours, but rather full colours, such as ocher yellow, burgundy and turquoise. Perhaps not entirely coincidentally the colours I use for this website, as well as the colours that are present in my own room; my offline backstage.
Since last year I've been busy filling my wardrobe in a more colourful way, which has been successful so far. Perhaps the best story of that is my search for coloured shoes. I have quite a few shoes, also in all different styles, but all were the standard colours black and brown (only since this year I also have white shoes, a colour that often doesn't suit me, but one I try to mix more and more in my clothing style). A shoe brand that I've been following for several years is Dr. Martens, which in my eyes have beautiful and stylish shoes. Only a little on the expensive side. Nevertheless, I decided to visit one of their stores last year.
There's no shortage of coloured shoes; bright red, bright yellow, bright blue and many more colours. I immediately loved it, but I thought the red one was too light red. So I had to choose between the yellow one and the blue one, and knowing me, that is a real long thinking process. The sales person, a guy my age, then told me that blue is a more neutral colour that goes with more outfits, unlike yellow. I thought he had a point, so I said that I would go for a safe choice and that I would choose the blue one. He laughed at it; after all, most people who say they are going for a safe choice just walk out the door with black shoes. But I was successful in my mission; finally I had coloured shoes in my collection.
In February, I decided to go for a risky outfit and grab the most colourful garments and put them on. The result; an ocher yellow turtleneck sweater, a checkered bomber jacket (although not necessarily very colourful), corduroy burgundy trousers, a blue-green coat and bright blue Dr. Martens. Opinions on the outcome are likely to differ; on the edge, or just over it? I personally appreciated it. (Text continues below image.)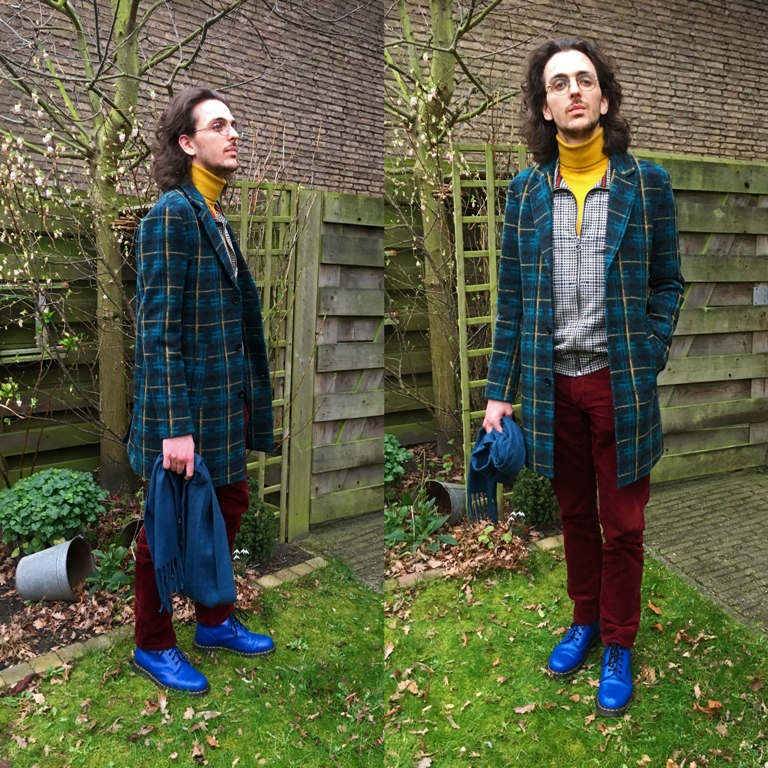 In the past, I have taken fashionable risks before. When I was 14 years old, I wore a bright pink t-shirt when the class photos were taken at school. Two years later I bought a light pink jacket in Rome, to which some teachers reacted slightly surprised and admiring; that I just dared to wear it on the street. A few years later, in 2016, I regularly wore bandanas, which is rare in my area. I was tense when I started wearing it for the first time. Despite this, the responses were mostly positive.
And yet I keep wondering what the world would look like if we all wore the most colourful clothes. Wouldn't the cloudy days become a lot happier between all those people who wear all those bright colours? Frankly, I'd like to experience it once, just to see what it would be like. Of course I also regularly wear a completely black outfit, especially when I go to concerts where alternative music is played. But still; often I try to apply some kind of contrast, or combine a dark colour with something colourful.
Perhaps it's also not a question of not wanting, but rather of not daring. When was the last time you  combined all your most colourful clothes and went out? It doesn't matter if the combination is on the edge or maybe even just over the edge; maybe we should just try it once.
"I'm headed to town, town, town.. in style" / Black Pumas – Colors (Black Pumas, 2019)
---
Related posts:
---
Next post: Jus(t) a Bad Human
Previous post: The Playlist that turned into a Musical Diary
---
Stay up to date about new posts by following via email, Facebook or Instagram.