Announcement – Song Challenge List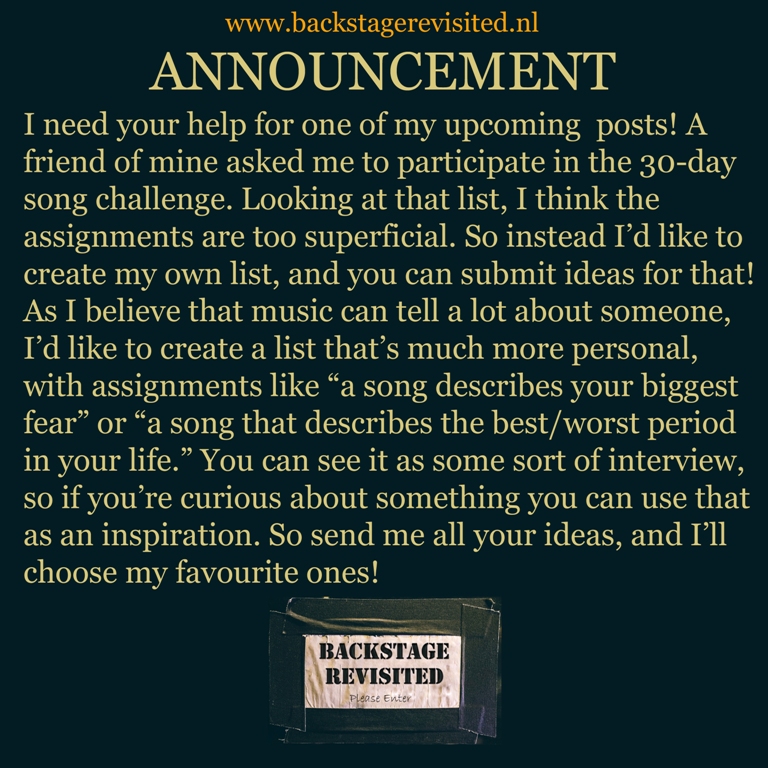 I need your help for one of my upcoming posts! A friend of mine asked me to participate in the 30-day song challenge. Looking at that list, I think the assignments are too superficial. So instead I'd like to create my own list, and you can submit ideas for that! As I believe that music can tell a lot about someone, I'd like to create a list that's much more personal, with assignments like "a song describes your biggest fear" or "a song that describes the best/worst period in your life." You can see it as some sort of interview, so if you're curious about something you can use that as an inspiration. So send me your ideas, and I'll choose my favourite ones!
---
Gerelateerde berichten (Nederlands)
Related posts (English):
---
Vorig bericht (Nederlands): With All My Favourite Colours [NL]
Previous post (English): With All My Favourite Colours
---
Blijf op de hoogte van nieuwe berichten door te volgen via e-mail, Facebook of Instagram.
Stay up to date about new posts by following via email, Facebook or Instagram.